RCAF Station Mossbank
General Information
Base / Station: Mossbank
Province: Saskatchewan
Dates of Operation or Period of Information:
28 October 1940 – 15 December 1944
Integral Units:
No.2 Bombing and Gunnery School
No. 135 (Fighter) Squadron (June 1942-September 1942)
Unit Duties / Information:
Aircraft Flown:
Anson,
Battle,
Bolingbroke,
Lysander
Commanding Officers:
Group Captain Ashton

Station Opening – 5 March 1942

Group Captain Ashton
Wing Commander J.D. Blane
Financial Impact:
Date / Reason for Closure: 15 Dec 44 , reduced need for aircrew
Post RCAF Evolution:
The Publication On Track…the Pilot's Air Travel Guide (First Annual Edition – 1978) lists the Aerodrome as "Mossbank" – See photos on this page.
Current Status:
abandoned N49 55 W105 52, all runways in deteriorated condition, no base buildings standing, Range Backstop still there.
A portion of the old aerodrome is owned by Kevin Stark(Facebook comment 11 Feb 2021)
On Track – 1978
Location – Google Map
Photo Gallery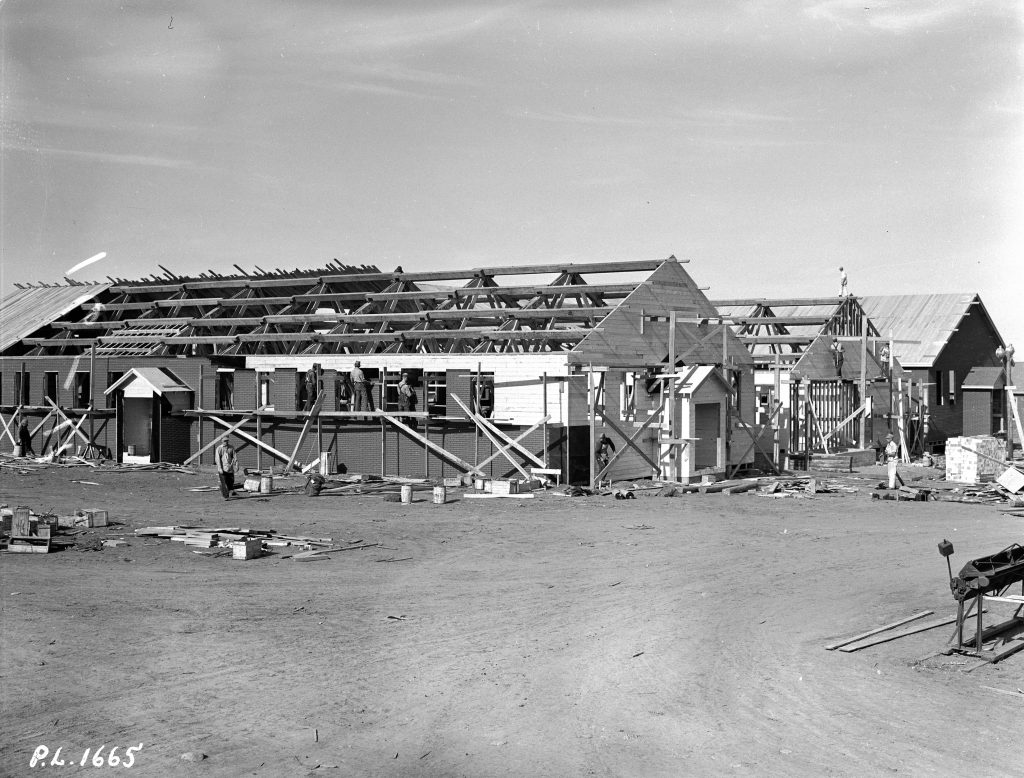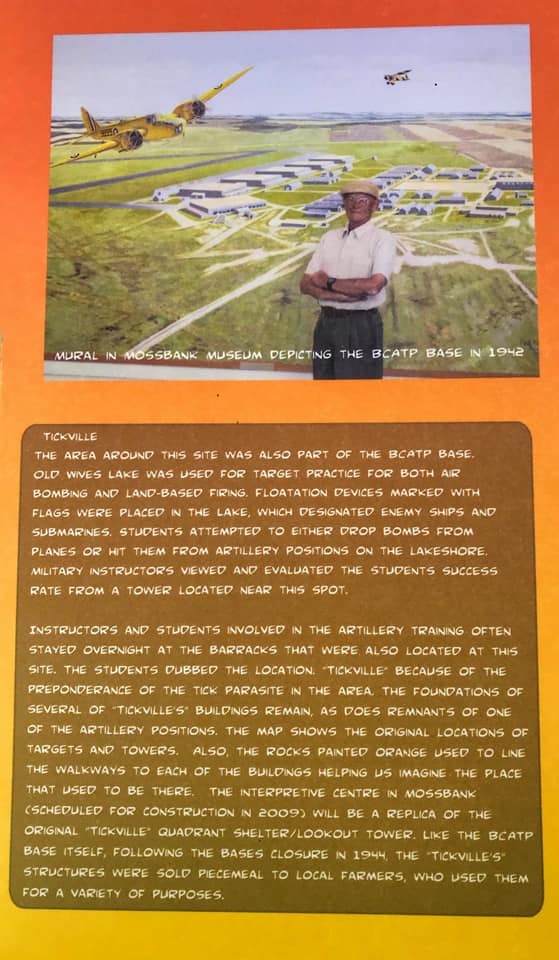 Daily Diary – Links – No. 2 Bombing & Gunnery School
The Commonwealth Air Training Plan Museum, Brandon, Manitoba has created a transcription of this Daily Diary.
Their web site is AirMuseum.ca
Fatalities
This list was compiled from the entries in the Daily diaries of No. 2 Bombing & Gunnery School and other sources. The list likely does not include all fatalities of personnel who died while stationed at RCAF Station Mossbank, and likely includes some errors. Currently this list contains 25 personnel.
22 December 1941
Civilian Employee of Station died… look up name.
19 January 1942
Flight Lieutenant John Arthur Peterson
Flying Officer Clovel Fay Lawson
3 February 1942
19 July 1942
Sergeant Gabriel Pierre Etienne Schoeler
Corporal William Wintonick
10 September 1942
Sergeant Hazel Winifred Seymour
14 December 1942
Warrant Officer 2nd Class Everard Barrington North
Leading Aircraftman Robert Edwin Habkirk
Aircraftman 1st Class Henry Vernon Pratt
Leading Aircraftman Howard Austin Lightle
Leading Aircraftman Russell Herman Shults
Leading Aircraftman John Campbell
15 May 1943
24 August 1943
28 August 1943
24 January 1944
13 March 1944
4 November 1944
Aircraft List
Notes
Morale programs on this station being administered by the Canadian Legion.
Fire in Ground Instruction School Building
Fire in range control tower
4 June 1941 – Station Crest adopted.
27 Feb 1942 – Fire – Barracks 11
17 May 1942 – RCAF (WD) personnel assigned to station.
Summer 1942 – Fairey Battles start being replaced by Lysanders, Ansons and Bollingbrokes.
12 Dec 1942 – Fire – Barracks 11
Course List
No 2 Bombing & Gunnery School
For More information – External Links
MilitaryBruce.com – Canadian Military History by Bruce Forsyth
Site Plan:
Aerodrome Disposal File:
For More information – Published References