RCAF Station Lethbridge
General Information
Base / Station: Lethbridge
Province: Alberta
Dates of Operation or Period of Information: 1941-44
Units:
No 5 Elementary Flying Training School

Formed – 22 July 1940
Moved to High River, Alberta – 28 June 1941
Aircraft Flown

No 8 Bombing & Gunnery School

Formed –
Disbanded –
Aircraft Flown

Anson,
Battle,
Bolingbroke,
Crane,
Harvard,
Hurricane,
Lysander,
Menasco Moth
Commanding Officers:
Wing Commander W.A. Jones

Commanding officer at school opening
Still C/O at 27 March 1942

CO closing was SL A.E. Turner
Financial Impact:
Date / Reason for Closure: 15 December 1944 reduced need for aircrew
Site Evolution
The Publication On Track…the Pilot's Air Travel Guide (First Annual Edition – 1978) lists the Aerodrome as "Lethbridge" – See photos on this page.
Current Status: civilian airfield, 2 runways, some taxiways and ramp, some base buildings might still exist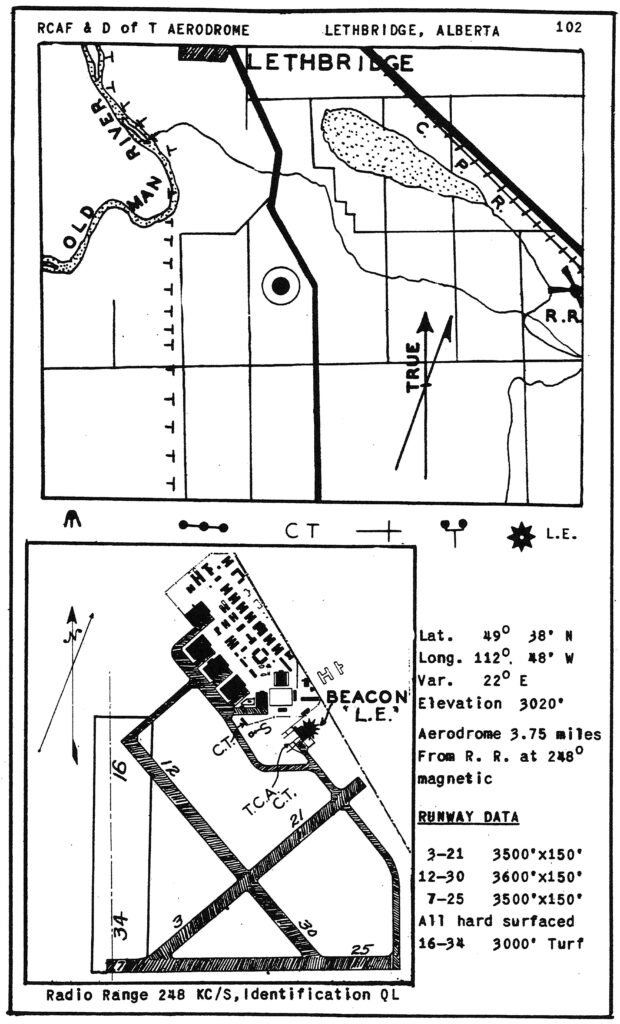 Training Area Map – No 8 Bombing & Gunnery School
On Track – 1978
Location – Google Map
Daily Diary – Links – No. 8 Bombing & Gunnery School
The Commonwealth Air Training Plan Museum, Brandon, Manitoba has created a transcription of this Daily Diary.
Their web site is AirMuseum.ca
Fatalities
This list was compiled from the entries in the Daily diaries of No. 5 Elementary Flying Training School and No 8 Bombing & Gunnery School; and other sources. The list may not include all fatalities of personnel who died while stationed at RCAF Station Lethbridge. With input from various sources, so far there were 27 deaths of service personnel that were stationed at Lethbridge.
20 August 1940
16 November 1940
13 May 1941
24 May 1941
27 February 1942
1 July 1942
9 August 1942
19 August 1942
4 December 1942
20 December 1942
18 July 1943
18 December 1943
24 January 1944
Aircraft List
Courts Martial
The following personnel were recommended for courts martial and a file was created on the Charged Offence not all Offences were tried. This list is not complete but I will be working my way through the reels in the upcoming months.
Course List
No 5 Elementary Flying Training School
Course List
No 8 Bombing & Gunnery School
For More information – External Links